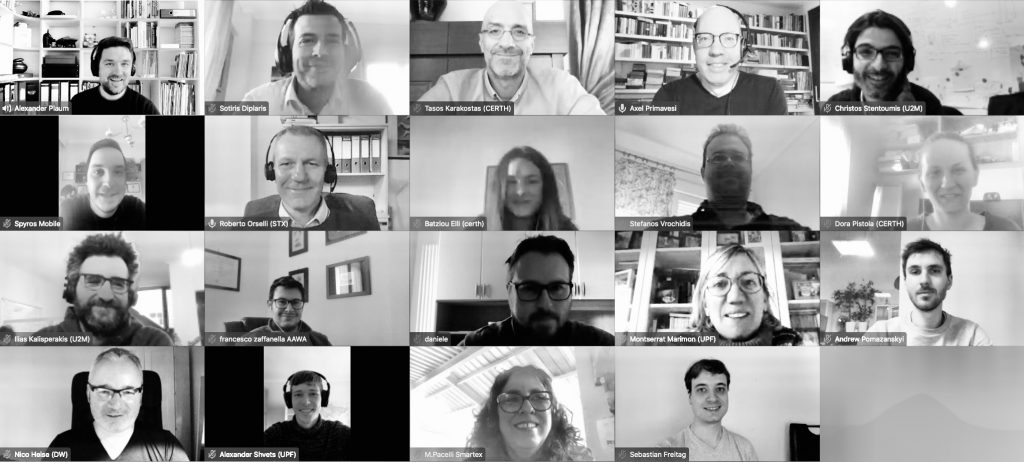 We just wanted to let you know that our EU-funded Innovation Action (IA) has been officially kicked off! November 25th and 26th saw us meet online to discuss and organize all the research, development and communication tasks that lie ahead in the next two years. Using XR technology (and lots of data) for a new kind of situational awareness means breaking uncharted territory – but it looks like we're well prepared.
We had a long, productive, enjoyable  video conference – with only one drop of bitterness: Everybody would've loved to meet afk/irl in Thessaloniki (where XR4DRAMA coordinator CERTH is headquartered) – and go for social dinner at the end of the business day. Maybe that will happen sometime in 2021 or 2022, fingers crossed.
Getting back to the IA itself, you can already read quite a bit about the project vision on this page. And to learn more about the consortium behind XR4DRAMA, just go here.
This blog section will keep you up-to-date with regard to deliverables, milestones, insights, prototypes, events, and so on. The next couple of posts will give you a more elaborate intro to the concept of situational awareness and describe the two pilot use cases we have in store.

So stay tuned. And don't forget to join the conversation on Twitter and Linkedin!
Best regards from Athens, Barcelona, Berlin, Bonn, Cologne, Prato, Thessaloniki, and Venice,
The XR4DRAMA Consortium