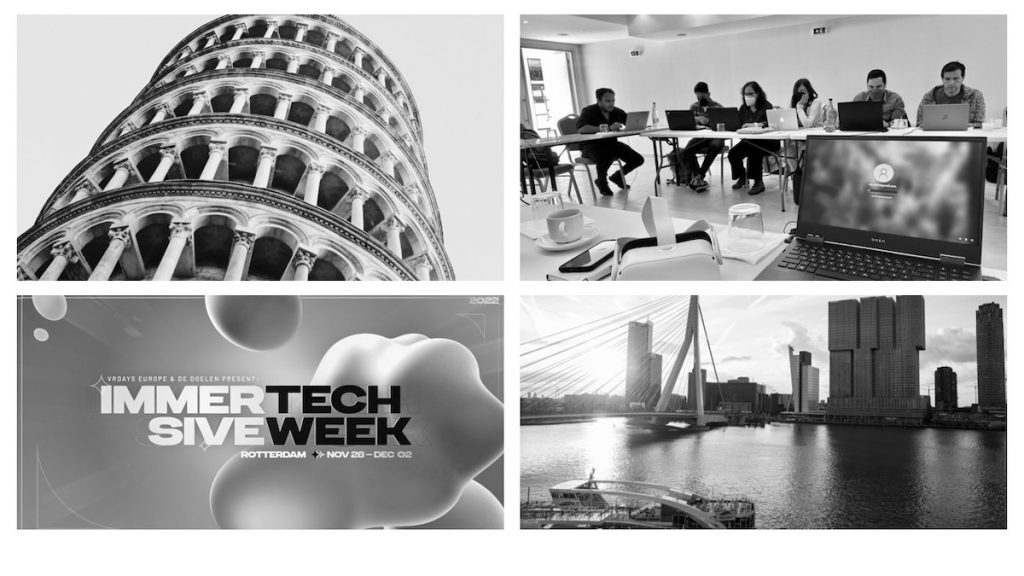 Before we can slowly get into XR Xmas mode, we have a rather busy week ahead of us: CW 48 will be packed with a full consortium meeting and a showcase at yet another big conference.
At first, representatives of all partners will be heading to Pisa, Italy where Smartex will kick off the 4th XR4DRAMA plenary meeting on November 29th. We'll have two full days of discussing the status quo of workpackages – and hopefully enough time to thoroughly test and update the ever-growing XR4DRAMA software collection. It now includes: an authoring tool for Windows, a VR collaboration tool attached to it, a citizen app for Android, and a location scouting AR/MR app for both Android and iOS. Lots of issues on GitLab, as you can imagine!
While most partners will be heading back home on November 30th and December 1st, respectively, up2metric will go to Rotterdam, Netherlands. This where this year's Immersive Tech Week takes place, an exciting and prestigious event formerly known as VR Days (and then based in Amsterdam). Festival Director Benjamin de Vit has invited the consortium to showcase the (preliminary) results of the XR4DRAMA innovation action – and u2m's Christos Stentoumis has taken on the job. He'll present XR4DRAMA in the Schadee Zaal of De Doelen on December 2nd at 14:55h – within the scope of a longer session dedicated to H2020 and Horizon Europe XR projects. Here's a detailed schedule of Immersive Tech Week, which already starts on November 28th.
So: Fingers crossed that everything will go according to plan. See you in Rotterdam, on the web, and in virtual space!